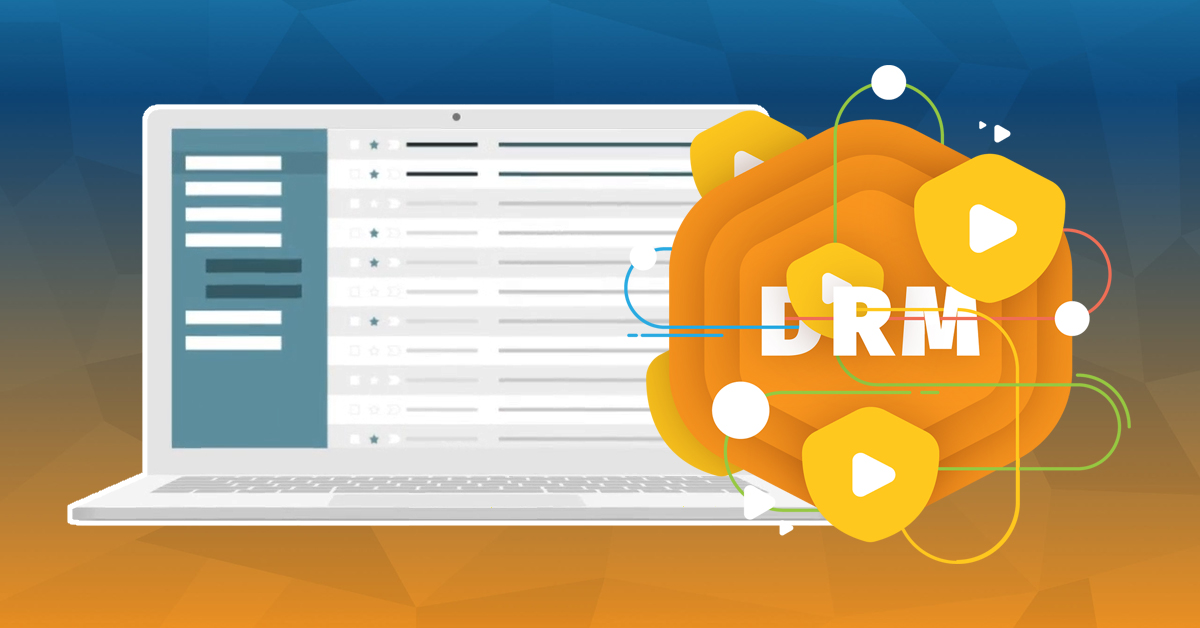 Plagiarising someone's content was a difficult job a few decades back but not anymore. In the internet era, we have access to unlimited technologies to download and upload content. From images, documents, to videos one can find, copy and upload within a few minutes. Do you think the content you wrote after spending 10000 hours is safe? No, right? Wondering how to keep your content safe while marketing it online? The answer is with the help of DRM solutions.
In this detailed article, we will take you through an explanation of what DRM is and how it works. You will also learn how Digital Rights Management services help you to prevent your content from unauthorized access, modification, and distribution.
Table of contents
Let us take you through a detailed explanation of the aforementioned topics and everything you must know about DRM solutions.
What is DRM and How Does It Work?
Digital Rights Management (DRM) is the use of systems and technology that protects your digital content from copyright infringement and unauthorized access. The practice of using DRM security helps authors, publishers, business owners, educationalists, and everyone who deals with digital media to protect their original copyright and cut back on its unauthorized redistribution.
In 2019, the United States Chamber of Commerce declared that the economy of the US loses almost $30 billion every year because of online piracy. If we specifically talk about videos, pirated videos have been watched more than 200 Billion times in the year 2018. In this technological era, you might think that it's impossible to keep a check on perpetrators but DRM solutions detect every unauthorized access and stop them from stealing your protected content.
Wondering how digital content rights management turns the impossible into possible? Learn how DRM works to protect your content against copyright infringement.
How does DRM work?
DRM's only motive is to protect your digital content and hence, it creates as many barriers as it is required to stop the perpetrators right in the first place. The two main approaches of DRM solutions are:
1. Managing permission: With the help of digital content right management tools and features, the number of access will be limited even for those who have permission to access your certain document.
2. Copy protection: these strategies of DRM are implemented to your digital content through encryption to control the access and making multiple copies of your work. We can also name this approach scrambling. Some of the copy protection features are fingerprints and digital watermarks.
How is your content safe with DRM?
Uses Watermark and fingerprint for author identification and copyright control
Uses Cryptography and digital signature for user integrity checking, conditional access, and credential authentication.
When you avail of DRM services, you can protect any type of your digital content in the following ways.
You can limit the number of times your content can be accessed.
You can restrict the readers from converting your digital content into hard copies.
You can set an expiry date of how long a reader or user can access your content.
You can put restrictions on readers to share or forward your content to other people via any platform.
You can create an ownership identity by putting watermarks on every page of your content.
You can put a limit on how many times a user can access your content.
You can restrict the readers from copying, editing, or sharing your content.
You can lock the access of your content with a specific code.
Deny requests of accessing your content from a particular location, device, or IP address.
You can apply many other digital content rights management strategies as per the type of solutions you are getting.
Want to secure your digital content with top-class security?
Who All Can Use DRM Solutions & For What?
Whether it is a retail industry, technology industry, media, publishing industry, or any other corporate industry is becoming a part of this digital world. Hence, we can say that every industry deals with a digital representation of their content in the form of images, eBooks, videos, and more.
To protect the unique content they create after spending 100 hours, they use DRM solutions. Below are some of the use cases for digital content right management services.
1. Media companies
Creativity is dead ever since copying each other's content has become so easy for any industry. Media companies often deal with the same news and have to create similar yet unique content. Hence, every media company must avail of DRM solutions to protect their unique digital content.
2. ePublishing companies
The growth of the publishing industry has increased at an immense rate ever since digital representation is introduced. In addition, the chances of getting your content copied also increases. Hence, eBook protection has become necessary and DRM security helps ePublishers and authors to lock their eBooks to specific devices, limit access, edit, and copy, and protect your eBook from all the aspects.
3. Corporate sectors
To improve employee training programs, corporate companies often create eLearning solutions and distribute them to employees remotely. It takes a sufficient amount of money, time, experience, and advanced skills to develop an effective eLearning solution. Hence, putting a little more effort into securing those content is also very important. Some of the best digital publishing platforms also provide DRM solutions along with eLearning content creation.
4. Advertising Agencies
Advertising and marketing agencies develop the best and most effective d for their clients, which are further circulated on digital platforms for promotions. The campaigns consist of secretive data and unique selling propositions of clients hence, they need to be secured against piracy.
Hence, many agencies use DRM solutions to protect their advertising campaigns, product launches, and other content.
5. Enterprise
Being a part of a multinational company, you must share confidential documents with your clients and companies on a daily basis. Ever imagined how much it will cost you if that exclusive information gets leaked or pirated? Don't let your years of hard work diminish like that. That is why even enterprises use digital rights management services to protect their crucial and confidential files.
Through good digital content rights management services, any type of industry can be benefited from safe and secured digital content.
What Is The Importance of Digital Rights Management Solutions?
In the digital era, before uploading your content on social media or any other digital platform you should know how to protect it against piracy. The role of digital content rights management is very vital in our business lives. Let us take you through the top reasons why you should invest in DRM solutions and their importance in your business.
1. Readers will pay for your intellectual property
How does it feel to find an audience paying and reading pirated versions of your eBooks? It's like, the audience is buying and liking your content but the profit is not coming to you. Thefts are posting the pirated version and earning your part of money and fame.
Hence, you must secure your eBook with DRM solutions. Ensure that you have a secure eBook promotion, sale, and distribution in the market.
2. To maintain the authenticity of your work
DRM services will make sure the content you distribute on digital platforms is authentic and valuable. Digital Rights Management features will stop against all the forms of manipulation of your content. If you are from the ePublishing industry, then you must know how important eBook protection is. As, content can be easily copied, changed, modified, and posted online as an original project.
Using DRM security to protect your content will not just protect your content but also add credibility to your work.
3. A tension-free Worklife
We all are aware of how any type of digital content is being copied and circulated under a night. This not only makes us face loss but also vanishes our sleep. In such cases, DRM solutions provide peace to our minds. If your unique and authentic content will be protected with DRM security, you will no longer have to have sleepless nights worrying about your intellectual property.
4. Protect your content at its best
There can be several ways to protect your eBook or any type of digital content but why only choose DRM solutions? Well, because DRM is the most effective and best kind of reinforcement to all protective parameters. The creators of DRM security know that even minimum negligence can cost you an arm and permanent loss of authority of your content. Hence, most of the ebook creation platforms ensure you the lowest chances of your work being stolen.
For the aforementioned reasons, content creators and their rightful owners protect their content with the help of DRM services.
Prevent Content Leakage with Multiple DRM Solutions
Key Features of Digital Rights Management Solutions
Before investing in DRM solutions, you must be aware of some of the key features of digital content rights management. Going through the following key features will help you understand DRM and how it comes in very handy. In addition, you will also learn how to choose the best digital content rights management services.
1. Control accessibility
To protect digital content it is important to have control over the availability and accessibility. DRM will only enable the authorized people within the workplace or outside with the permission to access and view the confidential document. There are privacy settings present in the digital content rights management features that enable content owners to manage who can access your content and who can not. DRM users can hence restrict unauthorized audience access to the resource.
2. Monitor access
DRM provides double protection to your digital content to make sure that your critical information is not easily leaked. Monitor access is one of the DRM key features that work like an in charge of digital content access. Even the permitted access will be under supervision, it is like another layer of protection to your digital content to make sure there is no chance of letting the content be stolen or leaked. Monitor access makes eBook protection even easier and better.
3. Protect content in various formats
Word Docs and PDF files are just the common types of digital content. These days, industries are generating content in ePUB3, PPT, Videos, Audio, Images, and more. DRM solutions enable the owners to protect content irrespective of its format. Even if one uses another file format other than the common ones, DRM will protect your file against all unauthorized access.
4. Make your own rules
Unlike other content security systems, DRM provides the options to set your own rules when the file is attached to an email. For example, you can restrict the user as per their location, their email address, and by applying passwords on your crucial content. This way digital you can share your eBooks or business documents worldwide via email and also make sure that it is safe.
These amazing and effective features of the digital content rights management system help publishers, authors, and media companies to protect their crucial files and documents conveniently. Let's look into its advantages in detail.
Advantages You Get From DRM solutions

Self-published individuals and many bigger companies may still not want to invest in the DRM system for eBook protection. That is why we want to introduce you to the benefits you get from DRM security. These advantages will help you in making the right decision to protect your content against all the possible threats.
1. It safeguards your overall revenue as well
With the help of DRM solutions, you can get your content published on the digital platform safely at the lowest possible cost. Furthermore, the safer your content will be the more visibility you will see of our content on the online platform. Hence, with a broad audience reach, better visibility, and improved sales, your overall revenue will also be increased and well-protected against losses. And, in case, the content you publish or share online is not protected with DRM security, it will encourage piracy, allow unauthorized access, editing, redistributed illegally, and hence, will leave negative feedback on revenue.
2. Works invisibly but highly protective
One of the biggest advantages of buying DRM services is that you don't have to keep a check on the solutions. The service providers will protect your content with DRM security in the background while you can just work on further content creation. Once you choose and set the type of encryption to your content, the document will be saved forever. No need to keep on dealing with security plug-ins. Hence, your intellectual and crucial property is secured from being stolen exactly like any other personal property.
3. Get future-proofed solutions
DRM system keeps improving its features as per the current security requirements for any type of content. There is no format that cannot be encrypted with DRM security, as it deals with all versions of your content. Without getting into the hassle, the content creator or publishers can protect the crucial document with all the advanced security measures.
4. Get our content prevented from IP thefts
DRM just not stops unauthorized from accessing but also keeps eye on those who have access to it. It tracks IP addresses that visit the content deliberately and monitors their actions on your document. Whether the visitors try to plagiarise your content or redistribute it to other platforms, their actions will be detected.
So these were some of the benefits you get on choosing to protect your content with digital rights management services. Wondering if there are any cons of DRM solutions? Let's look into it.
Cons of Digital Content Rights Management
The only disadvantage of the DRM system is it is hard to use for everyone. As you do not come from a tech background you may not be able to use DRM software appropriately. But, can you compromise on so many advantages just for one con? No, right? That is why DRM eBook distribution companies exist to help you out with providing cost-effective DRM services.
Many ePublishing and distributing platforms also provide white-label publishing along with DRM services. Hence, protect your intellectual property with the digital rights management system and distribute your content smoothly.
Conclusion
After going through the much detailed guide, you must have understood now how important it is for you to avail DRM services to protect your content against unauthorized access. After all, who can afford to take risk of getting their precious content leaked or stolen? If you are wondering now how to avail digital rights management services and which is the best DRM distribution company, then let us help you find the best one. Connect with our representatives to make us your partner in eBook protection. Write to us at info@one-read.com and get an instant response.