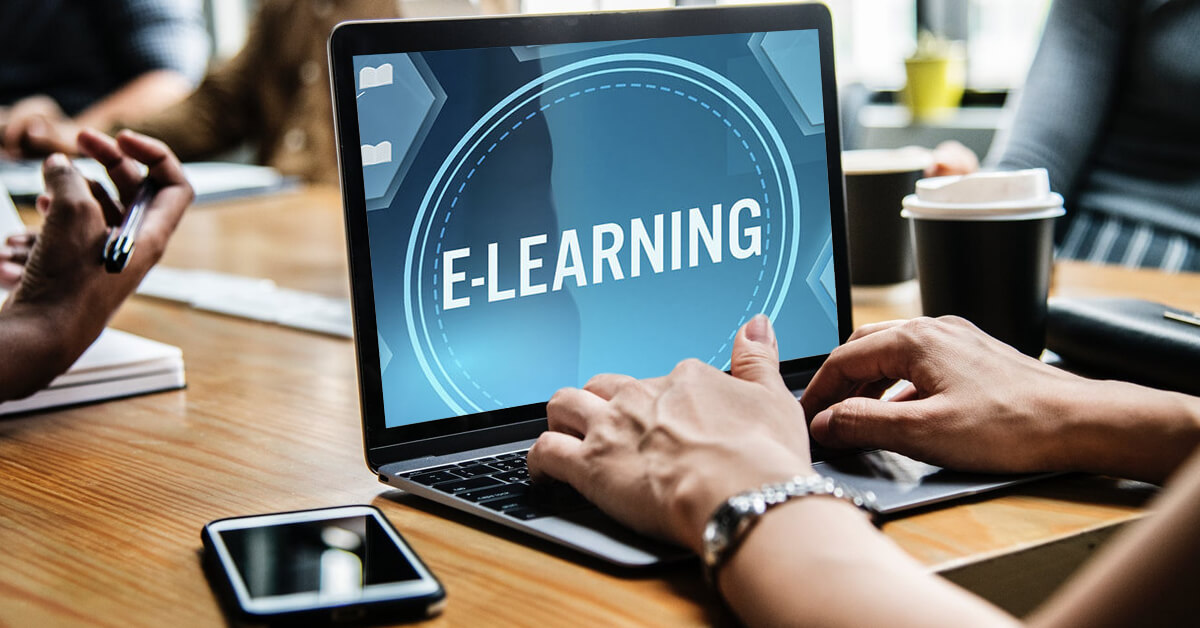 After the first part, wherein we touched upon why eLearning is in fact the future of modern education, it's now time to see how it can actually be implemented, for you to get the most out of it. Well, the most impactful approach here would have to be digital publishing, which has surely made a mark in the field of educational publishing and eLearning. And in order to implement it successfully, there are a lot of things that must be decided to finally start with the process. Let's get to it one by one.
1. Choosing an ePublishing format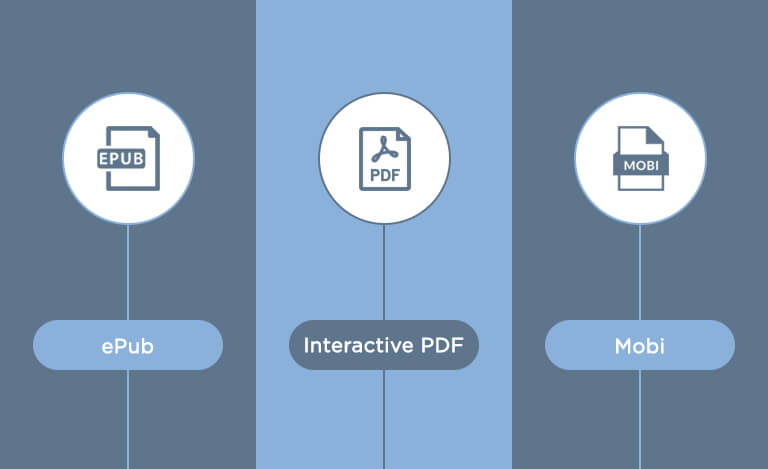 The first step would be to choose a digital publishing platform and an ePublishing format. There are a number of formats available. Depending on how you want your digital course implemented, you can choose the one that provides you with the flexibility you need.
On that note, here are some of the popular ones that make up for a good eLearning platform:
ePub

One of the most popular ePublishing formats these days is ePub which is also known as an electronic publishing format. This is an XML format for eBooks, which means eBooks developed using ePub can change and adjust themselves with the screen size. Also, ePub based eBooks are highly engaging and offer a good reading experience to the users. They can be downloaded and accessed offline.

One of the great things about ePub is that it is an open format that uses XHTML and XML as its programming languages, which means that it is compatible with most software. All you need is a little know-how of style sheet creation and XML syntax, and you'll be able to create wonderfully illustrated eBooks and eLearning courses like never before.

There are two kinds of ePub formats:

Reflowable layout

A reflowable eBook is a responsive one that can alter its placement of text, images, etc. according to the screen size without affecting the overall formatting. When an eBook organizes its content to fit the screen optimally, it offers a seamless experience to the readers. Since the content flow changes according to the screen, reflowable eBooks don't support multimedia content such as audio and video. This one could be your go-to format if your learning content is solely text-based.

Fixed layout

Unlike the reflowable layout, a fixed layout eBook, as the name suggests, remains unchanged irrespective of the screen size. All the elements in this eBook are static across all devices and platforms. This ePublishing format is best for eBooks that contain multiple design elements whose positions must be preserved or it will disrupt the reading experience. These eBooks resemble paperback books with a 2-page spread view and embedded page flip animation. The best thing about this format is that it allows the publisher to freeze the position of text and other elements, thus having complete control over the eBook.

Interactive PDF

PDF, also known as the Portable Document Format is one of the easiest and convenient digital publishing formats of all time. A PDF can be easily accessed with the help of a PDF reader. That is because it is supported by most operating systems and software. This one is more like a fixed-layout eBook which means that a PDF's content won't adjust itself according to the screen size. This may cause the reading experience to disrupt on some devices. Such eBooks can be customized and altered according to your requirements. Using a GUI-based tool, you can create a PDF easily without having to put in a lot of effort.

Mobi

The Mobipocket eBook format was introduced by Amazon. It may not be an open standard format but it is supported by major eReaders. For example, one of the most popular ones, Kindle, supports Mobi. This ePublishing format allows the indexing of content, thus making it easier for the readers to navigate through an eBook. You can also easily integrate a dictionary with your eBook using this format. It goes well with both fixed and reflowable eBooks. In terms of interactivity, you may not be able to get enough out of Mobi based eBooks as it doesn't support multimedia elements like video or audio. So, if your online course is mostly text-based, then this is the best eLearning solution that you can avail of.
2. Getting offline learning implemented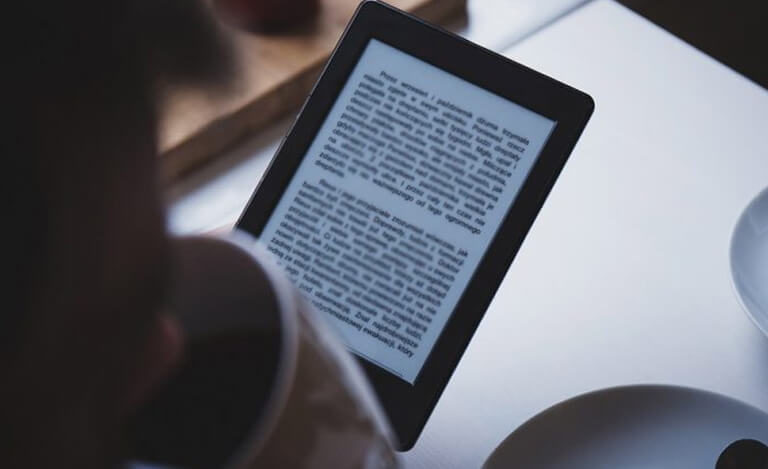 The whole idea behind eLearning is providing students with the flexibility of learning at their own pace. This means that they don't necessarily have to learn online, but are able to download content for offline learning as well. Your eLearning platform must allow your learners to do the following:
eBooks or online courses must be downloadable in a suitable format for the readers to access them without an internet connection.
Freedom to add annotations and create notes in the eBook offline.
The eLearning courses must preferably be uploaded on a dedicated platform, like a white-labeled app.
A working support for collaborative eLearning wherein learners are able to interact socially with peers, experts, instructors and even solve problems in groups.
Support multiple devices and platforms so that the content is viewed error-free across all devices.
3. Making your eLearning course impactful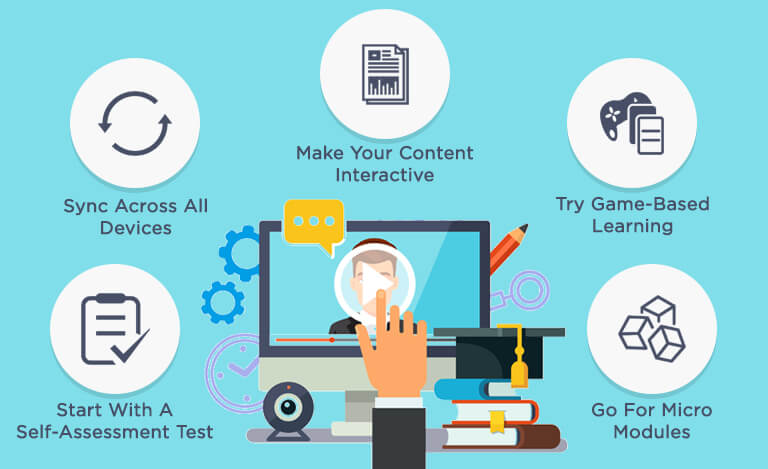 Once you're done choosing a relevant digital publishing platform, it's time to come up with an eLearning course that has a significant impact on your learners. Here are some tips that will help:
Let the learners start with a self-assessment test

Your learners must be able to figure out their strengths and weaknesses. By taking a self-assessment test, learners will be able to discover their shortcomings and areas where they need improvement. Using this approach will be beneficial for both individual as well as collaborative learners.

Sync your online course across all devices

Your eLearning solution must be synced across all devices or your content must be compatible with multiple devices. For example, if any learner exits the course mid-way on say, a smartphone, then they must be able to pick up where they left off using a laptop or a tablet. This way, learners can easily learn on the go.

Make your content interactive

Keeping learners hooked is a tough job. But it won't be so if you are able to engage your learners with interactive elements. There are a lot of content types that you can use to develop your eLearning course like eBooks, video format, PPT slides, animations, audio, infographics, puzzles, quizzes, assignments, external links & references, etc. Whichever you choose, make sure you use the right variation of all content types to keep the learners engaged.

Try game-based learning

Gamification is a new approach to eLearning that engages the learners without fail. It uses a game-based approach by maintaining points, badges, leaderboards, etc. Learners can learn and collect points by participating in quizzes and puzzles. This is a highly engaging form of eLearning that can be executed for individual or group learners.

Go for micro modules

Not everyone has time for extensive online training sessions. Microlearning is a kind of eLearning approach that can help publishers engage all kinds of learners. You can create micro modules, also known as short bursts of information, designed to train the learners in lesser time.
4. Tracking engagement with built-in Analytics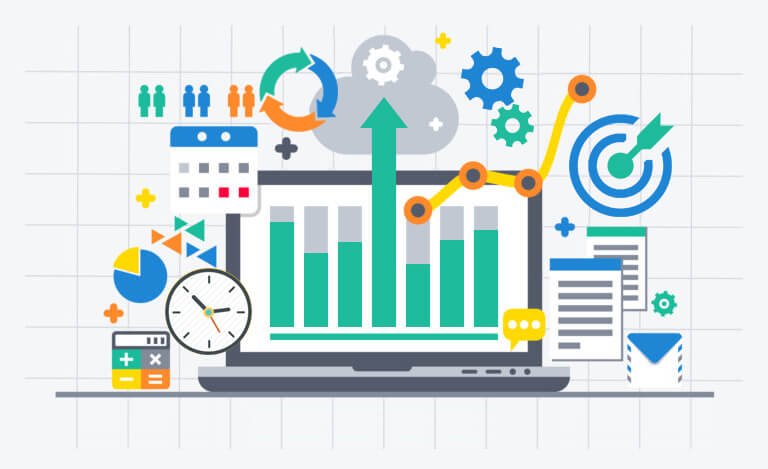 Your eLearning content may be up and live but how will you know if it's even working for the learners or not? You should be able to track its performance in real-time so that you can alter your approach to make things work. Well, Analytics can help you monitor the performance of your content by providing you with intuitive graphical sales reports of your content usage.
Here's how analytics can benefit you:
Insightful reports and analysis

Analytics can be integrated with your online publishing platform and can be customized according to the publisher's needs. It gives you easy access to KPIs and some insightful reading behavior metrics, making it easier for you to analyze and understand the readers' thought process and align your publishing strategy accordingly.

Visitors and their frequency

Analytics records the number of impressions for your digital content along with the count of unique visitors. Depending upon the frequency of visitors, you can determine if your learning content is up to the mark or not.

Boosts your social media interaction

Social media is one of the best ways to inform your readers about newly published content. Analytics can process relevant data and help you figure out the best time to post content updates on social media for maximum effect. Information like visitor classification based on age, gender, etc. is also provided to help you tailor your content in a way that actually interests them.

Track revenue generation

Revenue generated from published content can also be tracked using analytics. Weekly, monthly, or yearly reports can be extracted and analyzed to track your revenue growth rate.

Information on reading hours

Data like average session duration and reading hours spent on your published content can also be recorded using analytics. With a few customizations, you can also track reading hours spent on different platforms like Android, iOS, etc.
5. Securing with DRM and safe sharing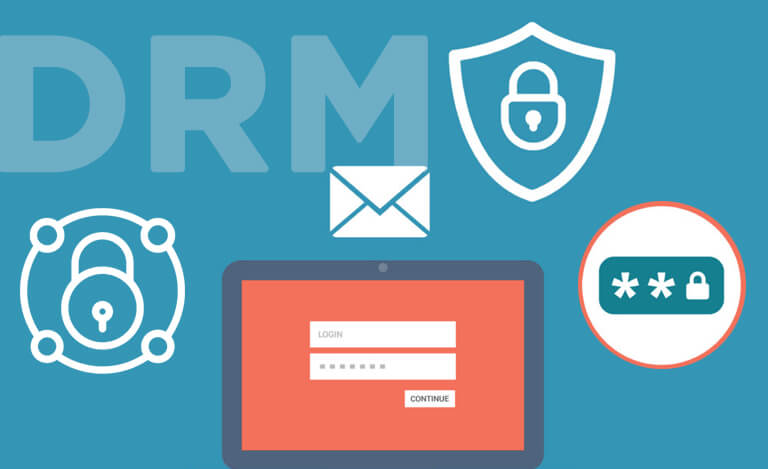 With data breaches and content theft being a major issue with digital publishing nowadays, your eLearning platform needs to be secure enough. The good news is that you can easily get that by integrating advanced DRM solutions with your digital distribution platform. DRM will basically act as your defense mechanism against unauthorized access and content piracy.
Here's how DRM solutions will help you safeguard your eLearning content:
Advanced encryption standard

Your eLearning platform is programmed using advanced encryption algorithms that ensure that your content is breach-proof and distributed safely. High-end algorithms ensure that only authorized users are able to access and share your published content.

Dependable license management

DRM solutions ensure that your content is distributed and managed according to your audiences' subscriptions. You can get a wide range of license types implemented like user, domain, or device-based.

Cloud security

If you get a white-label solution implemented for distributing your eLearning content, then you'll need cloud security to avoid IPR theft or illegal sharing or downloading of your content. DRM solutions can offer a suitable fix with corporate-level security.
So, there you go. Once you've covered all the aforementioned steps, you've got yourself an eLearning course, one that is ready to go live.
How OneRead Fits Into The Picture
Looking for an ideal eLearning solution? Well, you can stop looking. OneRead can help you get a digital distribution platform specifically designed to create, publish, and distribute content with full control over it. You can also opt for a white-label app if you're looking for a dedicated learning solution. Let's discuss your requirements and find you the perfect solution. Write to us at info@one-read.com to get started.