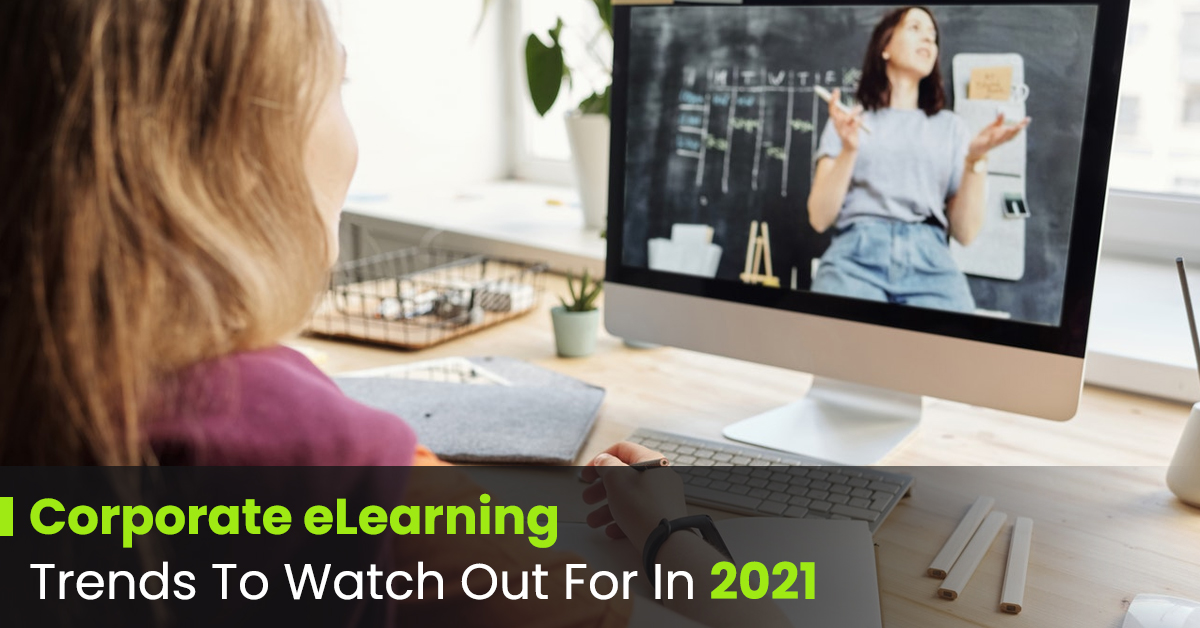 With the onset of 2021, there will be a plethora of emerging trends that will mould the future of corporate eLearning. This will further decide the effectiveness and success of the training. Let us throw some light on the various corporate eLearning trends that'll rule this year and beyond:
1. Personalized Training
The one-size-fits-all approach doesn't work anymore. Every employee has different and unique skill sets, and so, have different training requirements. A specific training module may suit a particular employee, but it is totally inadequate for others. The biggest challenge is to identify which employee needs which kind of training and developing the various training needs based on that.
In 2021, corporates may adopt a rather individualized approach to train employees. Employees will be allowed to choose how they intend to approach their learning process. To enable this approach to be a success, it is pivotal that the employees are offered more choices by providing a training menu to let them decide on the learning module they intend to undertake. Custom eLearning development services can be of great help to design training programs that are well suited for every employee.
2. Virtual & Augmented Reality
The virtual and augmented reality is, without a doubt, the potential future of corporate training. On one hand, virtual reality or VR is gaining popularity and is spreading over to diverse industry verticals, for instance, pilot training. The emergence of VR has led industries to hone the skills of their employees before the need arises. It enables employees to practice their skill set before actually applying it in real life.
On the other hand, augmented reality has been beneficial to healthcare, customer service and many other domains. After all, you don't want to be the first one to be treated by a neurosurgeon, do you? Obviously not! So, before going into the practicalities of a job, VR allows employees to basically test-drive the much-needed skills to minimize the risk and gain expertise.
3. Microlearning
Microlearning doesn't seem to stop when it comes to corporate training. So, it does have a bright future. In this, the employees are provided small, easy-to-digest bites of instruction or information that they can apply in their everyday job, project or task. Companies can go for corporate digital publishing solutions to cater to every employee's distinct training needs.
This trend is fast growing and won't be going anywhere this year or the following ones.
4. Geofencing
Another trend that is emergent in training and development on the basis of convenience is geofencing. With the use of a smartphone or any other device, geofencing helps deliver the relevant bits of information for job-oriented training and development whenever required.
Imagine you walk into a job site on a Monday morning. What now? With geofencing, you will be able to get an alert on any changes that have occurred over the weekend. This becomes possible with the help of cell phone technology. The cell phone technology accesses your location and gives you just the right information to get things done.
5. Versatile Content Deliverance
Delivering content in an artificially intelligent way is another emerging trend you will come across this year. This adaptive content delivery will make things flexible for your employees and help you individualize and personalise the training for them, and cater to their corporate training needs efficaciously. Gamification is a great example of an adaptive content delivery enabling corporates to estimate the behavior of learners to make the training all the more fresh, relevant and captivating.
6. Soft Skills Training
Based on research conducted by the Stanford Research Institute International and the Carnegie Mellon Foundation, around 85% of long-term job success relies on soft skills and a mere 15% on technical skills. On the contrary, a study done by LinkedIn suggests that soft skills are a top priority for training among the CEOs, and so, soft skills are indeed the future of corporate training.
7. Devise Instruction For Training
As a responsible corporate striving to succeed, it becomes imperative that you plan the employee training very carefully. Another trend that'll rule 2021 is the increasing transformation in the instructional design. Nowadays, training does not just include the usual learning materials that are made available to the employees. It goes beyond that, be it solving a concurrent problem or teamwork.
8. Online Mentorship Programs
When corporates hire employees through college placements, they are actually hiring freshers who haven't ever worked and possess no practical experience whatsoever. But, ever wondered why? It is because the millennials and Gen Z students have the technical skills to compete in the market. However, having a significantly low understanding of the practicality has given rise to various online mentorship programs as a part of corporate e learning solutions. With such programs, application of the technical knowledge is facilitated to enhance the productivity, persistence and succeeding potential of the inexperienced workers. These virtual coaching programs are carried out either through the corporations or from outside of it.
9. Data Analytics
Another trend to experience this year is data analytics. By using various data analytic tools, you can actually encapsulate the real ROI of the various learning initiatives undertaken by the company and thereafter devise a strategic plan. Though this one's not new in the list, it definitely is here to stay for long. There are a number of new tools that keep adding up from time to time, making the entire reporting process streamlined.
What the Future Holds
The above points are the major corporate eLearning trends that are and will be revolutionizing the traditional corporate training for better. Changing the way corporate training works, corporations get to leverage a whole lot of things through corporate e-learning solutions.
OneRead offers custom eLearning development services to corporations for boosting the confidence and morale of their employees. Infact, through a tailor-made eReader app that works on all platforms, our experts can actually help provide all the necessary information pertaining to the company under a single app. With us, you can design your own training courses and make the content delivery as effective as possible. OneRead is a great platform to take corporate training to a whole new level. Get started by dropping us a line or two at info@one-read.com.