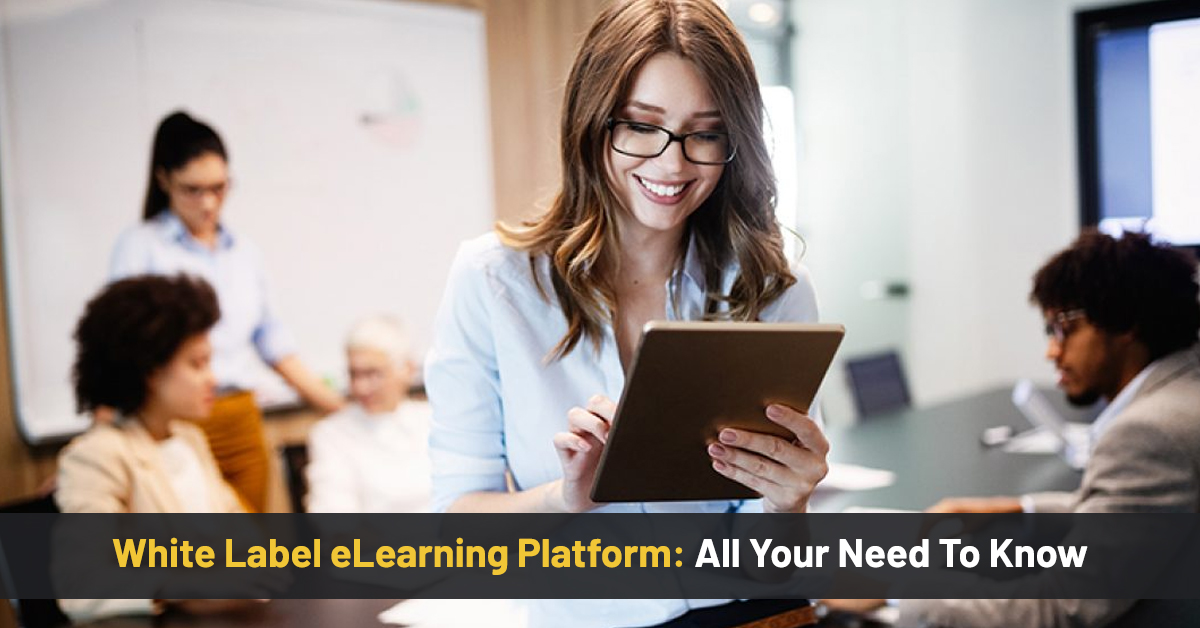 You need your online courses to look, feel and sound like you. But does that mean developing your own custom LMS? Not necessarily, considering the advanced customization features available today that make white labeling a simple yet highly-effective solution. Let's dive into white label eLearning platform and how you could benefit from it.
If we were to talk about 2020, remote working and online learning are among the top things that strike a chord in our minds, all thanks to the pandemic. While the year was quite strenuous for the entire world, it definitely did prove beneficial for some business segments, online learning being one of them. Ever since the pandemic has hit our lives,
the majority of the education industry has switched to online mode of imparting learning,
more and more people are turning to online courses to develop new skills and stay competitive,
several industries are offering online training programs to their staff and employees
What does this mean for businesses?
Well, this has unveiled and is still uneveling new opportunities for them to grow, add value, and establish themselves as a brand. However, to reach your audience and impart online learning or training requires an LMS (learning management system) – one that's a part of your business and helps your audience to interact with your brand. Thus, it is important to give your platform a strong visual identity. In other words, you must brand your learning portal. This is where white label eLearning takes the lead. Before we get into any details, we'd like you to read this:
"Your brand should be your first priority. You don't have to go with "Powered by xxx" with some other brand's logo/name and create any kind of confusion or dilution. Instead, create an environment that your audience knows and trusts with personalised eLearning platform.
We hope this made sense. This is what white labelling does. Rather than developing a training solution from scratch, white label eLearning platform is a far more convenient, economical and effective solution, with a bunch of benefits to offer. In this article, we will talk about:
What is a white label eLearning platform?
Speaking generally of an eLearning platform, it is a software platform used by businesses to create, manage and deliver online courses to their audiences. A white label eLearning platform, however, provides businesses with the opportunity to add their branding and relevant features. So instead of creating your own training solution from scratch, which is time-consuming and cumbersome, white labeling publishing helps you get a professional solution which can either be marketed as your website, intranet or domain. This, in turn, leads to enhanced user engagement, familiarity, and trust while contributing to a greater adoption rate.
What can you white-label within an eLearning platform?
White label eLearning platform listens to you. What we mean is, you have complete liberty of choosing the content you want to display and tailor it according to your brand's requirements. So, you can easily eliminate any kind of irrelevant piece of information and simply choose what matters. However, you can include some (most common) elements to brand your eLearning platform:
Login page: As your users enter your eLearning platform, the first thing they see is the login page. You can choose to customize it by adding your company's logo/tagline or change colors/fonts to reflect your brand's identity and connect better with your audience.
Portal: Your portal is the place where they spend most of their time. Thus, the way it looks and feels not only holds great importance but lays a considerable impact on the user experience. You can personalize it through custom banners to provide accurate, relevant information about your courses or training programs to the learners in an effective way.
Multi-portal: If your business demands you to create sub-portals for different audiences, then you must look for a white label eLearning platform that offers a multi-portal feature. With multi-portals, you can offer personalised experiences to every segment of your audience.
Custom Domain: Some eLearning platforms have an option wherein you can partly customize your domain without bringing forward the identity of the platform provider. This can help you in creating an environment that reflects your brand.
Customized Certificates: Once your learners have completed a specific course or training program, they'd like to have a certificate for the same. Thus, you'd want to choose an eLearning platform that allows you to issue custom certificates (with your brand logo) to everyone who opts for your courses. This is one of the best ways to promote brand awareness and increase your visibility.
Why should you opt for white label branding?
Creating and selling a good product/service is one thing and building a recognizable brand is another; and both are crucial. White label eLearning platforms serve both the purposes by facilitating brand reputation, visibility and ultimately exceptional user experience. Besides these, below mentioned are some of the benefits of considering white label publishing.
1. Corporate Brand Reflection
Whether your training portal is meant for corporate usage (for instance new hirings or employee training), or as a public portal (customer and partner training), it should be part of your brand identity. An eLearning platform can allow you to integrate a custom theme to achieve your goals but a white-label eLearning platform gives you complete control by helping you in eliminating all kinds of vendor references whether in the domain name, UI, or other assets.
2. Increased Revenue and Profits
This goes without saying but expansion is critical to success. Any business, regardless of the niche, must expand its operations products or services in order to succeed. By adding a new service option i.e. white labelling, you open up new avenues and opportunities for your brand to penetrate new markets and create new revenue streams. Not only can it be used to upsell or downsell but allow you to set your own pricing depending on your business strategy.
3. Value-added Bundling
For value-added eLearning solutions providers who cater to specialized markets, white labeling offers a branded end-to-end solution without needing to indulge in the cumbersome task of implementing a full-fledged eLearning platform.
Instead, consider taking advantage of an existing white-label business training platform that focuses on providing the most added value to your customers (be it content creation, support, or training, among others.
4. Market Recognition
White labelling your eLearning platform must be your go-to if you run an online training business or offer paid courses and subscriptions. This differentiates your services as an eLearning institution from those of the eLearning platform vendor while building stronger market recognition and customer loyalty.
5. Seamless Integration With Other Applications
As a business owner, you must be relying on a bunch of applications and software for day-to-day running and sales. Now you must be wondering how will you integrate all the applications that you use (for instance PayPal, Shopify or SalesForce among others) with the custom eLearning platform? Or what about the downtime?
Well, if we were to talk about a private label eLearning platform, integration can be time-consuming. However, white labeling understands you. You can opt for reliable Content Conversion services which can convert any document and can be used on this platform. Majority of the white labeled platforms come with pre-built options for seamless integration with the most crucial apps so that you can be up and running within no time, without hampering your business operations.
Do I needs A white label eLearning platform?
Opting for a white label eLearning platform depends completely on your business needs and budget. But how do you figure out whether you need one? The answer is, you might need a white label eLearning platform if you:
Own a Company Website: Adding an eLearning platform to your company website can serve as an extension to your website while providing you with several customization options such as embedding links to your existing pages or changing colors to create an engaging as well as a seamless experience for your visitors.
Need Affordable Solutions: As compared to a private label that is specifically crafted for you, white label eLearning platform is an affordable option that gives you the same result, as a private label, without any additional costs.
Want to Expand Your Business Operations: Branding is important if you want to maximise your operations and reach the masses. The stronger your brand is, the more recognizable you will be. With an effective service option like white label publishing, you get a few steps closer to expansion and growth.
Limited Internal Resources: In order to build and maintain a learning platform from scratch, you need the right combination of expertise, time and unprecedented efforts, failing which might leave you without an eLearning platform. A white label product, however, gives you easy access to custom branding and tech support saving you from hiring and investing in more resources.

Choose What's Right For Your Business?

No matter how much you end up investing in your eLearning platform, if it doesn't fit your business requirements, it's all in vain. Thus, choosing what's right for your business is foremost. You must consider certain grounds before you choose a solution, such as user-friendliness, app integration or other basic customisation options. Afterall, you'd want your learners or users to have a memorable learning experience. You can always request a demo to see how the platform feels and works before you choose one and decide accordingly from both user and business point of view.

Conclusion

Whether you're a startup, a large enterprise or something in between, the advantages that white labeling offers are difficult to ignore. In fact, they're something to be boastful of. The right eLearning platform can help you deliver an exceptional learning experience to your audience while helping them in connecting and trusting your brand. Last but not least, branding is paramount and white labelling does it well.