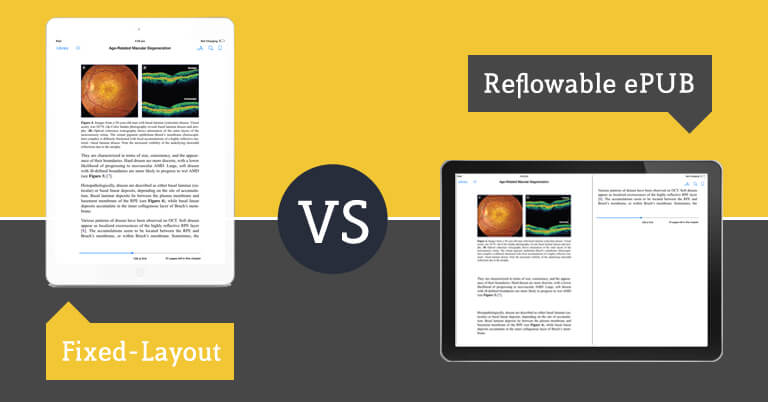 In the last few years, the growth of digital transformation has increased at high rates. As per Forbes's recent survey on the same, 21% of the organizations have completely transformed their business on digital platforms whereas 70% of companies are done with making their digital transformation strategy.
The publication industry is one among the 21% of the industries. Digital platforms of accessing books have changed the way readers consume knowledge in ways no one could have predicted. Also with the advancement in the learning sector, custom eLearning course development is the major need of the hour. That is why authors and publishers have been very specific while choosing an eBook layout. These days, reflowable eBooks conversion and fixed layout conversion are two available options.
So, if you are a publisher or an author who is wondering whether reflowable is better or fixed-layout for eBooks in the ePublishing industry, then this guide will come in handy.
Table of Contents
Now, let us take you through the detailed information of the aforementioned points and help you choose the best layout for the publication of your eBook.
Introduction To eBook Layout
What, according to you, works as a dealmaker for an eBook? Is it the plot of the story, the appealing fonts, visuals in between the text, or what makes the difference according to you? Actually, it is a combination of all three of them. The entire presentation of your ebook can be called eBook layout. Finalizing the design of an eBook layout is an important and critical task. It requires the equal strategic and thoughtful mind that you need while developing an advertisement for your content.
Even since the publishing industry has transformed the business into a digital platform, how readers access books on reading devices has completely changed. And, undoubtedly, it has opened the business to the broadest audience. Hence, the importance of the presentation of your content increases. After the specialty in your content, the eBook layout is the second thing you must focus on. A correct eBook layout can help you appeal to your readers and subconsciously attract their attention to your content.
Types Of eBook Layouts
Here are the two types of eBook layouts that you can choose from Fixed Layout (FXL) and Reflowable layout. Let's discuss the types of eBook layouts in detail.
1. Fixed Layout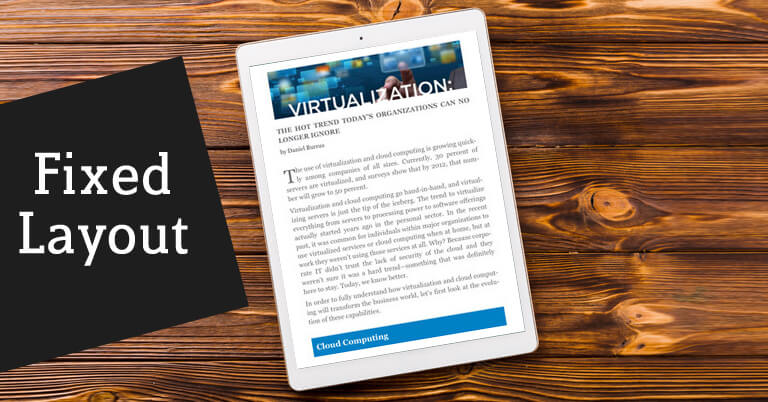 Content such as texts, visuals, images, and designs remains fixed in this layout. In some types of eBooks, the location of the content becomes important then, fixed-layout comes in handy. On using this layout for online book publishing, the readers will see the displayed picture exactly how you have designed it in the layout. eBooks that are about recipes or interior designing, the picture of the food or the infrastructure needs to be placed exactly after or beside the information. For such eBooks, a fixed layout is a better option to go with.
Each of the layouts has its own pros and cons. Let's discuss the pros and cons of a fixed layout.
| Pros | Cons |
| --- | --- |
| It offers a colored background. | This layout will save the eBook in a larger size. So, the price of downloading the eBook will be higher. |
| The entire control of the page is over the layout. | If you are using smaller fonts with images, readers may find difficulty in reading the text. |
| Content will be spread over a double-page leaf. | Not all reading devices support a fixed layout. |
| Texts are displayed above the images. | Lack of opportunities in eDistribution. |
| Multi columns are available. | Overall, an expensive option during the production and at the time of update as well. |
2. Reflowable Layout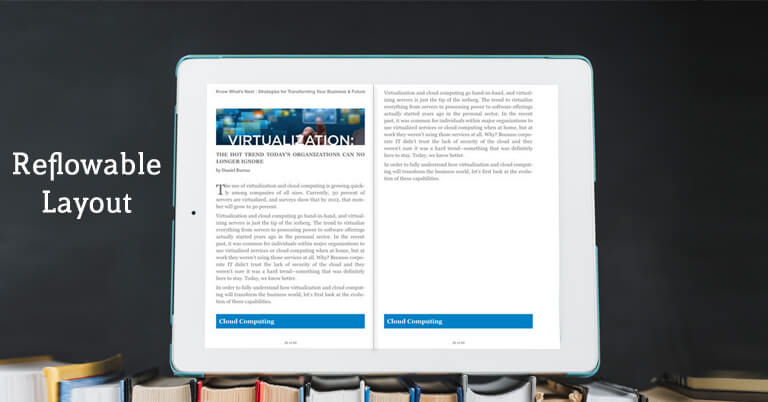 Reflowable eBooks conversion is a favorite type for ePUBs especially when their publications are based on mainly text. It is supported by almost every reading device and very handy for the readers. Let's try to understand this type of layout by the initial meaning of reflowable. It means the object will shape itself to fit the circumference automatically. Similarly, a reflowable layout in an online book publishing format helps the texts and the visuals to take their shape to fit the reading device's screen naturally. eBooks such as fiction, non-fiction, biographies, memoirs, and even business brochures are preferably produced in a reflowable layout.
Let us walk through the table consisting of all the pros and cons of using reflowable eBooks conversion.
| Pros | Cons |
| --- | --- |
| All types of reading devices in the world support reflowable eBook layouts. | Multi-columns are not available. |
| Take less time to update after you are done with online book publishing. | No content will be absolutely positioned. So, if you want some of your text to appear before the image without changing the size even when the readers want, that won't happen. |
| The control of the text and the display is over the readers. This means readers can change the size of the font and image as per their device and comfort of reading. | Fewer options while embedding the fonts. |
| It is cheaper while self-publishing online. | |
| It is produced in smaller sizes. So, publishers can sell their eBooks at a cheaper rate. | |
In most cases while online book publishing, a reflowable layout seems to be more preferable to a fixed layout. But, before you choose a template let us take you through the in-depth comparison between both the eBook layout.
Comparison Between Fixed Layout And Reflowable
In order to convert PDF ebook to ePUB, you will not find much difficulty as the reflowable conversion services providers will make your task easier. But, before you finalize the layout and transfer the eBook for distribution, let us take you through a complete comparison.
1. How is the readability of the content with eBook layouts?
As authors and publishers, we often use the best and automated readability to measure how user-friendly our content is. In actuality, the readability of the content does not solely depend on the plot but also on the layout you choose.
The reading experience of an eBook depends on the type of layout the content has produced too. In a reflowable layout, the fonts fit as per the screen size. The line break changes and the text aligns itself. Hence, readers can adjust the font size and style just by stretching in or out the page.
Whereas, in the fixed layout ePUB, the texts will be paginated and hence will not adjust with the screen no matter which reading device you choose. Readers will have to zoom in and out, scroll left and right every time to get a better view of fonts.
2. Do all reading devices support fixed and reflowable layouts?
A fixed eBook layout does lack support from several devices. Amazon is one of the most dominant eBook industries and unfortunately, it has a worse fixed layout format.
Whereas other eBook reading devices including Amazon such as Apple iBooks, Nook, and Kobo, support the reflowable layout without any error. Hence, most of the publishers choose reflowable eBooks conversion over the fixed layout to be able to approach more audiences.
3. Which eBook layout is more interactive in nature?
Corporate eLearning solutions also demand interactive training and learning this means you have to choose either interactive or static content keeping your readers in mind. If your eBook is not mandatory synchronized with images and illustrations unlike comics and storytelling, then a reflowable layout will work best for you. Without the synchronization of images, the readers can easily zoom, highlight texts, and read with all convenience.
What if using Images and graphics with text is your topmost priority? Your eBook has to be more static.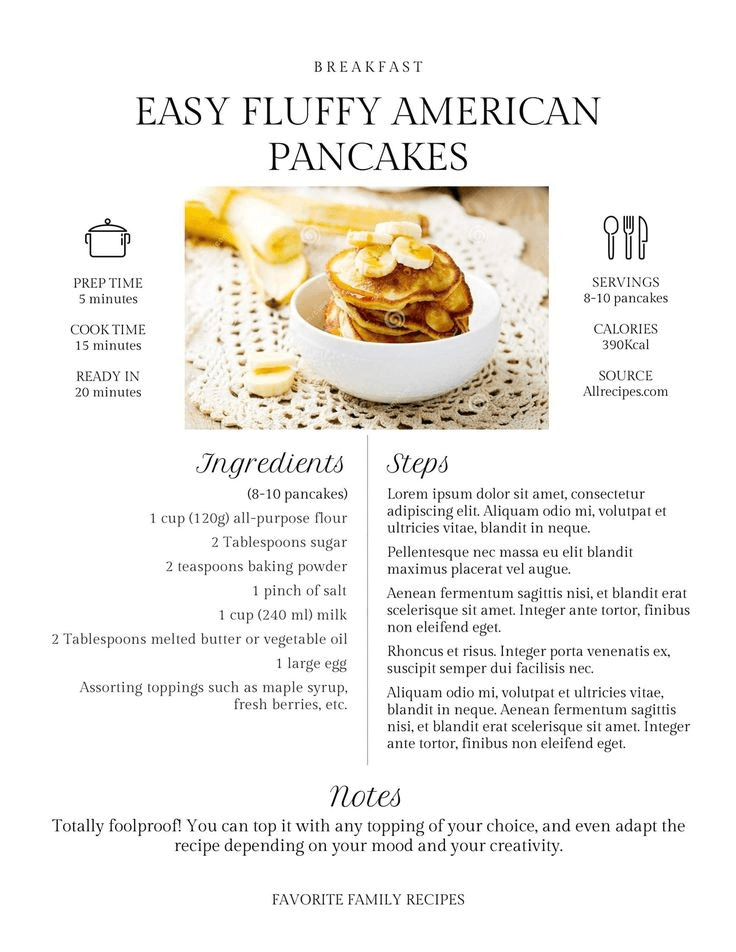 So, a fixed layout will come more in handy. With a fixed eBook layout, your project will remain in one place and text and images will be linked together. The reflowable layout will make images look smaller by taking their shape to fit the screen whereas, a fixed layout can make the readers feel like they are reading a printed comic book.
4. Which eBook layout is best for content's reach?
As we have discussed earlier as well that the reflowable layout is supported by majorly all the reading devices such as kindle, mobile phones, tablets, and laptops. Hence, most of the eBooks are chosen to be produced in the same format. So, this can be concluded that the reflowable eBook layout has a broader distribution and scope.
Because of some of the drawbacks in the fixed layout, there are always fewer people interested in using a fixed ebook layout while opting for online book publishing.
5. Which eBook layout is best as per the book types?
The fixed layout should not be used when you are converting a text-heavy book into an eBook. Content with lots of pictures, graphs, or maps, a fixed layout works better. The types of books such as children's books, cookbooks, coffee-table books, graphic novels, comics, and technical manuals are only a few examples. If you are converting a picture-heavy PDF into an eBook, fixed-layout is highly preferable.
On the other hand, the reflowable eBooks conversion must be chosen by the authors and digital publishing giants when the book type is fiction, non-fiction books, or books with heavy texts.
6. Which one is more cost-effective: Fixed layout or reflowable layout?
Reflowable layouts are always less expensive to produce, that is why this layout is preferred by small publishers or independent authors. To produce your eBook from a PDF copy, all you would need is a sensitive and reflowable ePUB format and a reliable company that can perform the reflowable eBooks conversion process.
Fixed layout eBooks, on the other hand, are more costly due to the large number of people involved in their production. This layout is not very much preferred by the publishers and independent authors who are looking for self publishing online. Besides, the process of converting a PDF to an eBook with a fixed layout takes more time.
After going through the comparison, you will have an idea of which eBook layout will work best for your eBook conversion. Marking any one of the layouts as favorites will be unfair to another. As the type of layout must be chosen on the basis of your content.
How To Choose The Perfect eBook Layout?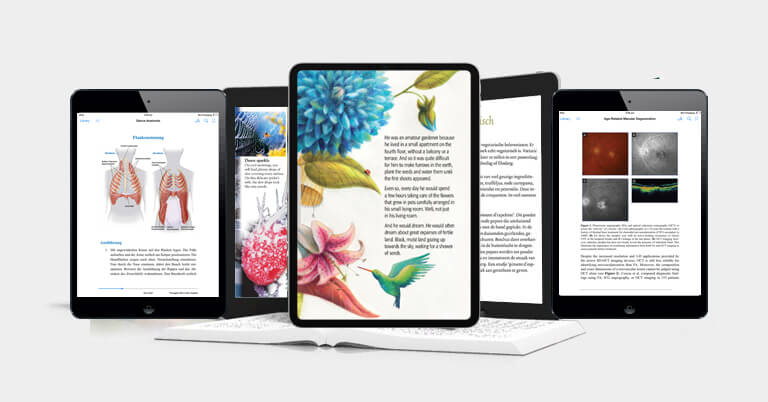 Before choosing the format from a fixed layout or reflowable layout, you must figure the answer to the following questions:
Does your content have a lot of columns?
Are you converting a picture-heavy, text-heavy, or interactive text into an eBook?
Who is your audience?
Are the graphics and images your foremost priority along with the text?
Is your distributor supply both fixed and reflowable layouts?
After keeping the answers to the aforementioned questions in mind, you will be able to make wiser choices for converting your PDF content into an eBook. To make your content even more engaging, read the next section.
Best Practices For An Engaging eBook Content
Whether you hire a reflowable eBooks conversion expert or use the self publishing online method, the format of the input determines how the content is converted. Hence, we have come with some of the best to-dos before the conversion process for the best results:
Make sure you are sticking to one font style throughout the content. A different font can be used for quotes or dialogues.
Try to keep the margins of all the pages small and uniform by using left-justified or focused text.
While changing paragraphs, do not use the 'Tab' key, rather you can set your indents using the "Paragraphs" setting.
No images or visuals should be large. They should be in tiny sizes and embedded. As pictures and visuals do not flow like text.
Use paragraphs and pointers to make your content look interesting. Keep the image of your text will appear on a mobile's and tablet's screen and then finalize the format.
Once you are done with the process to convert pdf ebook to ePUB with the help of an expert, your content will be more engaging and reader-friendly. The final eBook cover image will be decided by you, you will be provided with objective suggestions as well. At last, your eBook will be ready for distribution.
Advantages Of Availing Reflowable eBooks Conversion Services
Most self publishing online companies offer conversion services in two common formats that are ePUB and Mobi conversions. The service providers make sure that converted eBooks can be accessed on all the well-known and lesser-known devices such as Kindle, Nook, Google eBooks, iBooks, and more.
Moreover, a reflowable layout is always better than a fixed layout. If you outsource the reflowable eBooks conversion services, you will be benefited from the enlisted things:
They make sure that their experts are using optimal advanced eBook conversion tools to convert your eBook to an ePUB. As advanced technologies help to produce exceptional outcomes.
A separate and dedicated team of experts works on your online book publishing process. At first, the team understands your approach towards the presentation of your content and then starts implementing the content strategies.
Even after the completion and delivery of your project, customer support is at your service 24*7 to clear your doubts or to add your requirements on content.
You will be offered not one but not multiple reflowable eBook conversion packages at reasonable prices.
Your hard work and creativity behind writing a unique piece of the story are valued. They know what it takes to finish well-written content. So, their utmost attention is on the security of your data and content. They make sure that your content is safe with them.
Projects are delivered before time. Even if the experts find converting your PDF into an eBook a critical task, they try to deliver the final conversion on time. So that the distribution of your content starts on time.
So you see the advantages of availing of the reflowable eBooks conversion services. After a team of veteran professionals can make your content ready for distribution and sales better than you.
Conclusion
By the end of the article, you will be convinced enough that a reflowable layout is better than a fixed layout when it comes to choosing an eBooks layout. Also, hiring a digital publishing company will make your task easier and increase the chances of a hike in sales. Although not any random company claiming about their eBook conversion services can stand up to your expectations but, companies that are serving the domain for more than decades can deliver quality outcomes. If you have doubts regarding ePUB solutions, leave a comment below and get your doubts resolved in a jiffy.