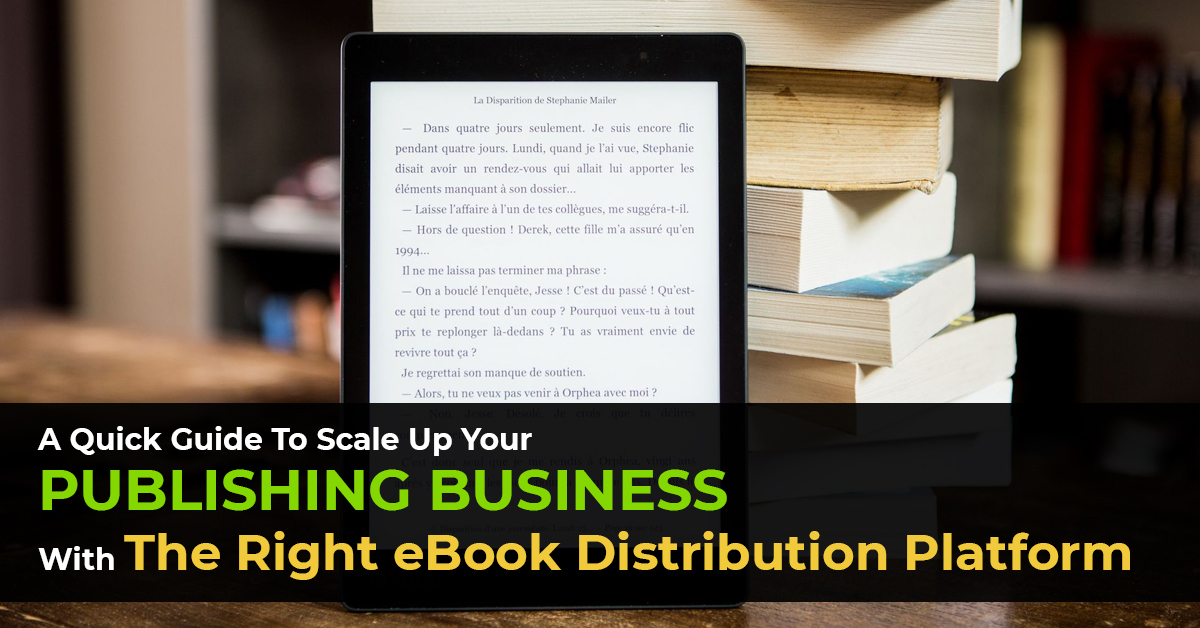 Table of Content
eBook Distribution – A Quick Overview
eBook distribution is a rather complicated process with new publishers gradually penetrating the publishing market and few existing publishers closing their business. As far as eBook publishing is concerned, publishers need to be apprised of the changes taking place in the market. The publishing industry is gradually evolving and witnessing a massive transformation.
As per Statista reports, the revenue generated in the eBooks segment is estimated to amount to US$ 15,635 million this year.
So, as an ardent publisher, you must focus on powerful eBook distribution that can take your publishing business to new heights.
Nowadays, every publisher is aware of the emerging concept of eLearning and digital books. Digital content has become a necessity to meet the growing needs of a modern classroom. In order to make classroom learning more interactive and flexible, it becomes extremely essential that a proper eBook distribution platform is chosen. With the right digital content distribution platform, publishers can easily reach out to their target audience, acquire new customers, and scale up their publishing business.
Benefits Of Choosing The Right eBook Distribution Platform
Choosing an eBook distribution platform that best suits you as a publisher and gives the desired output is quite a challenging job. More and more business organizations are nowadays opting for corporate digital publishing solutions for seamless publishing and distribution of their digital content.
Before heading towards selecting an eBook distribution platform, let us give you an idea of the benefits of choosing a suitable one:
The distribution of digital content across multiple platforms is not only cost-efficient but can save a lot of time for publishers as well.
It can keep the published content up-to-date and accurate.
It spares publishers from the hassles of traditional logistics and warehouse management processes.
It can leverage various social media channels as well as eStores to advertise, market, and sell your content or eBook across.
Top 5 eBook Formats You Can Use To Effectively Deliver Your Digital Content
There exist a myriad of formats that you can use to distribute your digital content to the right audience. A majority of eBook retailers and distributors use ePUB and MOBI formats for effective digital content distribution. However, there are many other formats that have rules in the publishing industry for better reach and engagement.
Here's a quick list for your reference:
ePUB (.epub) – It is the latest version is ePUB3
PDF (.pdf)
TXT (.txt)
MOBI (.mobi)
AZW (.azw) and AZW3 (.azw3)
If you intend to change the existing format of the eBook, you can easily get it converted by availing professional eBook conversion services.
Top 5 Factors To Be Kept In Mind While Selecting An eBook Distribution Platform
1. Computation of royalty
This is the most crucial factor that needs to be considered while choosing an eBook distribution platform. Every digital distribution platform has a unique business model with different pricing and commission plans.
While you choose a particular eBook distribution platform, make sure you are aware of how the distributor calculates the royalty. You need to know whether you receive based on the price you give to the store, the actual list price, or a specific percentage of what they receive.
2. Extent of reach
Another important thing that you need to consider is the size of the network. In order to reach out to a wider audience, you need to make sure that the platform you choose increases the reach of the eBook across most of the widely used eBook stores such as Kobo, Amazon's Kindle, Apple iBooks, and NOOK.
With the right ebook distribution platform at your disposal, you can easily reduce the time spent on exploring new marketing avenues and shift focus towards the core business functions.
3. Credibility
While you are planning to publish and distribute your digital content on a single platform, you must also ensure that the platform is trustworthy. You can get in touch with the existing users and even the previous ones to get a better idea of their reliability. Scrutinize all the factors and pick the right one for effective and smooth eBook distribution.
4. Checking on the platform's policy
Of course, it is important to check for the guidelines and penalties of the distributor. But, it is equally essential that you check for a variety of policies pertaining to the platform including refund policy, inventories, promotions.
5. Reporting
You need to make sure that the chosen distributor provides you with requisite reporting tools that help in drawing valuable insights into how the eBook is performing, for instance, integrating with Google Analytics and other tools for setting the right direction for marketing efforts.
Why Should You Consider eBook Distribution Services?
Wondering what you sign up for when you outsource the eBook distribution services to an offshore company? Here it is!
Managing large volumes of data

eBooks may be in a concise form or a well-detailed one. In case it is lengthy going up to a hundred or thousand pages, then it becomes extremely important to ensure that the content is error-free before distributing it to the relevant audience.

If, as a small-scale publisher, you do not have sufficient resources and infrastructure to manage such large volumes of data and perform the conversion process, then you can outsource eBook distribution services to an offshore company and accomplish the task within the stipulated time frame.

Customizing features as per need

Enlist all the tasks you want to accomplish and determine whether the chosen eBook publishing tool can fulfill your needs or not. If you have the software you require, then all you need going forward is an expert that can offer you custom solutions for eBook creation, conversion, as well as distribution.

Customization is something that you must seek before finalizing an offshore company to cater to your digital content needs.

Ensuring safety and security of data
After your digital content goes live, there are a lot of concerns that need your attention as a publisher, one of which being data security. An offshore company that offers robust data protection capabilities for your eBooks is all you need to protect your digital content from unauthorized use and distribution, piracy, as well as intentional or unintentional thefts.
Some offshore partners render effective DRM solutions to help safeguard the digital content and prevent unauthorized access and redistribution. DRM or Digital Rights Management offers protection against piracy, intentional or unintentional theft, and unauthorized use.
An eBook distribution platform that offers customized DRM solutions is all you need to cater to the distinct needs of data security and privacy.
Wrapping Up
Choosing a befitting eBook distribution platform can be a tough job, but with this handy guide, you can easily fulfill your digital content needs.
OneRead is a custom eLearning development service company that offers effective solutions to cater to your distinct publishing and distribution requirements. Get in touch with us at info@one-read.com to take things forward.